Workplace from Meta, Teams and Slack are some of the most used digital platforms worldwide. But what is the best choice for your business? We have done an assessment of each of the tools to make it easier for you to choose the right one.
WORKPLACE FROM META
What is Workplace from Meta?
Workplace is an intuitive communication and collaboration platform for businesses
Workplace is an intuitive platform used for communication and interaction that ensures inclusion of all employees. It follows the same design as Meta and is therefore easy to use. The application consists of chat, video, live broadcasts and groups, as well as a navigable knowledge library that has the function of an intranet.
The platform is accessed from both desktop and mobile. For mobile, you download both the Workplace app and a chat app.
Read more about Workplace from Meta here.
What features does Workplace have?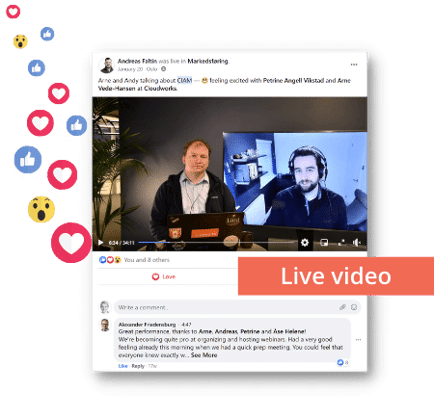 Chat messages, group messages and video calls
News updates, groups, events, polls
Live video with the entire company
Easy information and file sharing
Organization chart and search to find employees
Automatic translation to understand employees in other countries
Integration with 50+ different platforms (Microsoft, Google Disk etc.)
Knowledge library: File upload and sharing of static and navigable information
What is best about Workplace?
Workplace is unifying, creates engagement, provides an overview and is easy to use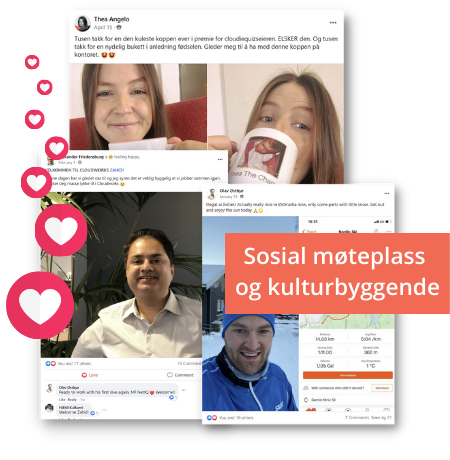 Workplace from Meta creates engagement, builds community and brings employees together. With the familiar design from Meta, the app is intuitive, easy and engaging. The news feed gives you an overview of everything that is going on in the organization, while groups are important for organizing in smaller units and projects. The design of Workplace allows you to quickly navigate the flow of information and find information important to you. Chats and groups allow employees to get in touch quickly regardless of departments, subjects, hierarchies and geographical distance. It is easy to share information and files, as well as comment, like and see who has seen the posts.
With the new knowledge library, you also have a place to upload static information, such as employee handbooks, HR routines and organizational routines. All of the documents that were previously stored on the intranet can now be moved to the knowledge library.
With Workplace you also have video conferencing and a live video feature that enables broadcasting to the entire organization. Thus, it becomes a unifying platform the whole company benefits from.
What is Workplace missing?
Document production and document management is not the core of Workplace
The platform's greatest strength is the engagement the platform builds and the ease of sharing information through groups, chat and the news feed. When it comes to file management, however, this platform is less advanced. File management is possible through Workplace, but if you need documents with advanced requirements for version control, approval processes, co-editing or searching for content within the files, Workplace should be integrated with an existing document system, such as Dropbox or Microsoft Sharepoint. Workplace can be integrated with more than 50 similar applications.
For whom is Workplace the best fit?
All large and medium-sized companies, and companies with deskless employees
Workplace has currently over seven million paying users worldwide and is found in all types of organizations, whether it is private business, public sector, municipalities or non-profit organizations. The platform is especially useful for large and medium-sized companies with many employees to reach out to, but is also used by smaller companies. Workplace is especially popular in companies where employees are at different locations. This because you can easily communicate, share information and knowledge, regardless of where you are.
Workplace is particularly great for deskless workers because the solution is highly mobile-friendly. Many deskless employees do not have access to a computer during their working day, and Workplace is the solution that allows them to get information, take part in conversations and interact with the rest of the company.
Read more: How much does Workplace from Meta cost?
MICROSOFT TEAMS
What is Microsoft Teams?
Teams is a digital platform for video conferencing, collaboration and document management
Microsoft Teams is a digital collaboration platform widespread in both public and private sectors. Most probably know Teams as first and foremost a video platform for digital meetings, but it is also a platform for sharing and storing documents and files, and collaboration. Teams is part of Office 365 and is often used in combination with other applications, particularly Microsoft Outlook.
What features does Microsoft Teams have?
Teams and channels.

Interactions occur in teams/groups with several channels.
Chat function. Chat between individuals, groups and teams.
Storage in SharePoint.

All files are automatically saved in SharePoint.
Shared calendar.

The solution is integrated with Outlook, which makes it easier to schedule meetings and check availability.
Split screen.

During a video conference, you can share your screen and show files.
Video calls.

The tool's clear advantage. Video meetings with 1000 active users and 10,000 viewing users, and you can join through a link without access to the app.
Phone calls.

You can connect your phone number to Teams and use it for calls.
What is best about Teams?
Teams is excellent for document management and video calls of all sizes
Teams is great for collaboration in shared documents, whether it is internally in the organization or with external partners. As a Microsoft platform, writing programs such as Word and Excel are an integral part of the app. Writing, creating, sharing, managing and synchronizing documents is therefore a first-class experience. It is easy to find documents and you can work several at the same time, you can give feedback along the way and comment in the sideline.
Teams' second advantage is the video meetings. The meetings hosts as many as 1,000 participants who can interact using chat, audio, video and presentation of content. If you arrange a webinar, up to 10,000 people can watch at the same time.
In addition, external people without access to the app can join the meeting through a link. This means that Teams is often chosen when it comes to document sharing - and production, and is usually the preferred tool for video conferencing at several companies.
What is Teams missing?
Teams is weaker when it comes to instant communication, chat, engagement and immediate overview
If the purpose is to gather, socialize and engage, Teams is not the best platform. When posting, chatting and communicating in writing, it is not as intuitive or easy to use. Its design appears confusing and requires several clicks to access the information. Teams lacks a logical and structured system for news feed and push alerts. To figure out what is happening and how it is happening appears less intuitive, and often you have to actively visit all the Teams folders you are a part of to get an overview of new activity.
Teams has not succeeded to become a platform that creates engagement and builds community, and the lack of structure within the app makes it easy to lose track. Therefore, the platform is best when used for document management and video conferencing.
For who is Microsoft Teams the best fit?
Teams is beneficial for all types of organizations, companies and educational institutions
Microsoft Teams is suited for most organizations, whether it is large companies, small businesses, schools or municipalities. Those who already use Microsoft products often prefer to use Teams both internally and externally, especially for video meetings. This is because it tends to be a natural choice due to the platform's large impact field and that it has a seamless calendar integration.
Teams is especially great for smaller groups to interact with documents, virtual workshops and video meetings – both internally and externally.
SLACK
What is Slack?
Slack is a platform to communicate, coordinate and collaborate in real time
Slack is picking up the pace in the company. Its whole design encourages quick decisions, real-time collaboration and efficient communication. Slack is especially valuable when it comes to instant messaging and chat. With a design where you can always see who is online and a drop-down menu with instant messages, the threshold to ask questions is low. What used to be lengthy emails are now immediately clarified.
What features does Slack have?
Slack has several features that are constantly evolving:
Chat and instant messaging

to individuals and groups
Own threads

and channels
Smart search

function

that stands significantly apart from other apps
Video and audio

for individual or small group conversations
File and screen sharing

that is simple and efficient
1500+ integrations

with other apps
Slackbot

is a smart bot that cleans up the channel
What is best about Slack?
Slack is a counterpart to the old intranet that "no one" used. Here, processes run smoothly. With social features that encourage interaction, reaction and communication between employees, it will quickly become a platform you look forward to use, almost like a regular social media platform. The smart search function for finding relevant information in previous message logs, documents and groups is particularly popular. The builtin chatbot, Slackbot, is smart, cleans up and presents suggestions.
There are also several channels and threads within Slack, and you only sign up for the threads that are relevant to the projects you are involved in. At the same time, you can create shared general channels where all employees are involved. You also have the opportunity to notify the entire channel when sharing important messages.
Slack's best features are the speed, pace, instant chat and information flow. This leads to hierarchies being broken, emails being terminated and increased commitment to the job.
What is Slack missing?
Slack does not allow for large video meetings and is weaker at document management
Slack is excellent as a chat client, as an information sharing channel and as a unifying and social platform for the company, but it is not a sufficient platform for document management and production. For some, it appears text-heavy and difficult to find important information. Slack is also not for hosting meetings.
Slack works best for 1:1 video meetings or smaller groups, but not for groups larger than 15. The app mainly creates engagement and attention connected to shared posts, and is not a place to write, synchronize or structure documents.
For who is Slack the best fit?
Slack is particularly well suited for small and medium-sized businesses
Slack is best suited and most common in small and medium-sized businesses, but can be used in all sorts of companies. The platform is especially popular within communication, creative environments and the tech industry, and is best suited for high paced companies with frequent communication, as well as where file and media sharing is an important part of the business. For the largest companies, the platform can be a bit confusing, with long lists of chats, threads and channels.
Workplace, Teams or Slack – or a bit of everything?
It is a jungle of digital collaboration platforms, and it can be challenging to figure out what works best for your business. Choosing a new tool that the entire company will use requires a lot of adjustment internally, and is not something you wish to do often. So, what should you choose? Workplace, Slack or Teams – or maybe a combination?
→ Workplace is best for those companies and organizations that want to include all employees in their communication and collaboration solution. It is an intuitive platform that can be applied to many different areas of the employees workday.
→ Slack is a pulsating platform where chat is at the center and communication is rapid. However, the tool can quickly become somewhat confusing for companies of larger sizes, and is best suited for companies with frequent file sharing and fast communication.
→ Teams is the ultimate platform for video conferencing, in addition to sharing and collaboration in live documents, but it does not have the same pace when it comes to chat.
Whatever your business chooses, all three platforms offer a solution that could replace email. They facilitate two-way communication and collaboration, increased order and overview, and a shared digital experience that contributes to simplicity and efficiency!