Workplace from Meta is a popular tool used by organizations that wish to improve their internal communication and facilitate valuable interactions. It can be partly used as an intranet, but it is so much more than that.
→

Good and efficient features

Workplace is a well-developed platform with several features and includes, among other:
Chat is something most people are familiar with through social media usage. With instant messaging, either one-to-one or to a group, employees can communicate easily and efficiently and get immediate answers to their questions. They can also share photos and files, or call each other with or without video.

Groups are the very core of the tool. In addition to the chat, it is in the groups you communicate and collaborate, and it is where value creation takes place. Groups can be organized according to specific areas, functions, projects and departments or other divisions the company considers relevant. Within the groups you can post, comment and share files.

The news feed is unique to each employee, filled with posts from the groups you are associated with and engaged in. Based on AI, the feed will display what is considered most relevant to you. In addition, specific people in the organization can ensure that important messages are prioritized and viewed by everyone.t.

Live video is particularly useful for general meetings and when news and announcements should be communicated to everyone in the company.

Polls enable anyone to facilitate voting, either corporate or socially. Thus, all opinions are being heard.

The organizational chart in Workplace provides the complete overview of employees, their role in the company, their direct manager, as well as contact information. The built-in organizational chart is automatically updated upon changes.

Knowledge Library

enables storing and sharing of static information such as HR policies, company routines and templates. The content is easily accessible and can be shared by anyone.
→

Integration with existing tools

Workplace connects with other IT tools used by the company, such as Microsoft 365, Dropbox and Google Disk. The integration makes it easier to share documents and collaborate, all within one platform.
→

Collaborate with other companies in the tool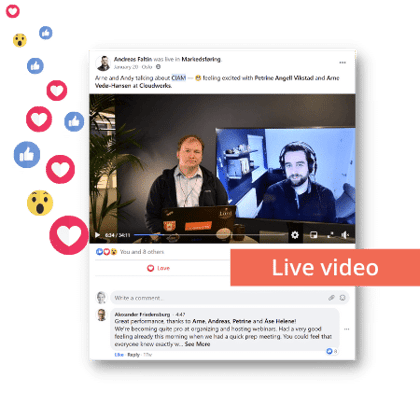 Do you work with an external team in another company that also uses Workplace? Then you will have the opportunity to create a joint group where you can collaborate and communicate. The threshold for contact is lowered, unnecessary email correspondence is removed, and collaboration becomes more efficient.
→

Separated from your private Meta profile

Hesitant to use Meta at work? Your private Meta profile has nothing to do with Workplace. You will get your own separate user for the platform.
Workplace builds a professional and social community that connects all employees closer to both the company and to each other. Within Workplace, every employee is engaged, socialized and motivated. It becomes a natural digital point of contact and an important link between everyone in the company. The tool contributes to more openness and cross-disciplinary cooperation. Value creation can flourish and culture building is enhanced.